Double K 401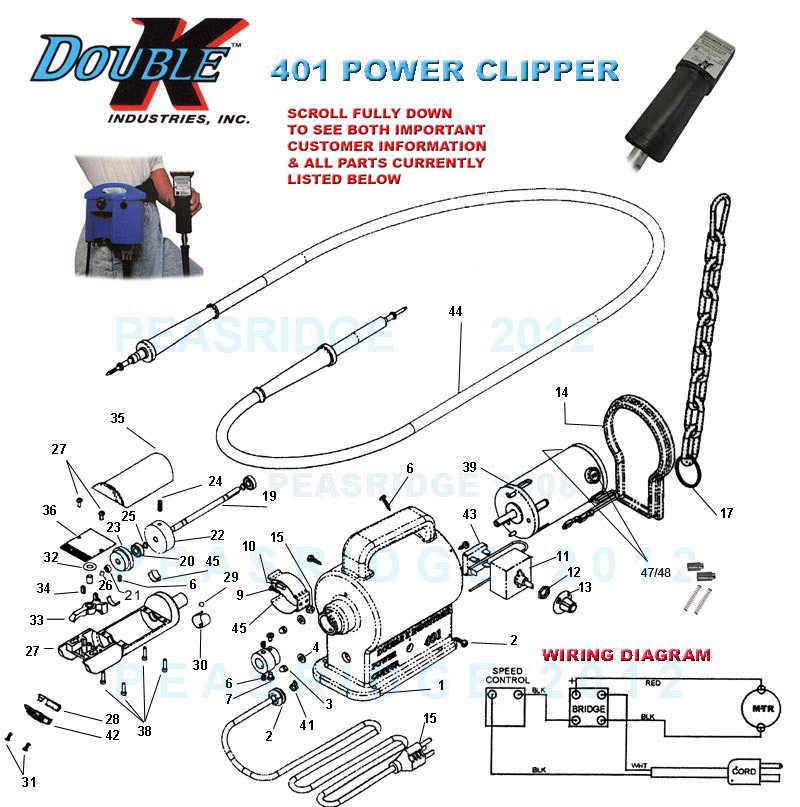 Customer information
IMPORTANT – CUSTOMERS INFORMATION
This page is under constant construction with new parts being added. Please also note any manufacturer's updates as listed
Always scroll FULLY down the page to see both updates and current parts listed
Some pages may only show a limited number of parts – you will need to CLICK "View All" (See the top of the page above the diagram or at the bottom of each page)
If you require further advice please contact us.
E-mail:
sales@showtime-supplies.co.uk
Telephone:
UK Mainland: 01759 368 588
Overseas: +44 1759 368 588
PLEASE NOTE
Telephone lines are open from (UK time: ) 1030 to 1230 hours and from 1430 until 1630 hours Monday to Friday. Our offices are shut on Saturday, Sunday and all Bank Holidays.
Product items such as ADAPTERS, BATTERIES & CHARGER UNITS are listed under CLIPPER ACCESSORIES See STORE SELECTIONS on the LHS of your screen
ORDERING PARTS
Please have details relating to make and model of machine, as well as applicable part or diagram identification numbers to hand. Failure to do this may result in errors in the parts ordered/supplied.
TRADE – DISCOUNTS
Trade discounted prices are available on all parts to bona fide trade repair businesses. Please contact us for further information
SHIPPING
We make every effort to ship parts the same day for next day delivery on the UK Mainland
INTERNATIONAL SHIPPING
We ship worldwide daily.
MANUFACTURER'S UPDATES
<b NONE
DOUBLE K – 401 clipper – Fitting the cable

INSTRUCTIONS for fitting flexible drive cable to the DOUBLE K 401 POWER CLIPPER.
…………………………………………………………………………………………………………………………………..
IMPORTANT! – AT ALL TIMES OBSERVE STANDARD ELECTRICAL SAFETY!
Do not attempt to switch on this machine without the appropriate electrical current converter unit
DO NOT ALLOW CHILDREN under the age of 18 years to attempt to use or handle this equipment at any time. Novices should only use this equipment with an experienced operator in attendance at all times.
Fully check your clipper – with blade fitted after fitting cable and before use on any animals.
…………………………………………………………………………………………………………………………………..
When fitting the flexible cable shaft it is recommended that you have the motor connected to your mains power supply and switch on with the variable speed switch turned to the lowest power position – sufficient to just rotate the shaft.
To change a cable you need to unscrew the two counter sunk "Allen" screws in the alloy shaft at the end of the blue plastic cased motor – see figure: 1. To do this you will need a very small "Hex" or "Allen" key. Do not attempt to use a key which is not the right fitting otherwise you may damage the Allen screw.
DO NOT unscrew the two Philips type "Possidrive" headed screws as this will release the alloy adapter shaft from the plastic motor casing.
With the motor running at a slow speed insert the shaft pin into the rotating slot (see figure: 2) until it engages and you can confirm this by seeing the other end rotating. Once engaged refit the Allen screws securely.
With the motor still running at a slow speed engage the other end of the cable shaft into the rear end of the 401 clipper.
If correctly inserted you will see the clipper drive lever moving.
PLEASE NOTE:
Before attempting to use or operate the clipper we strongly recommend you attach suitable blades and check the machine is working correctly before applying to any animal.
Showing 1–16 of 19 results
Showing 1–16 of 19 results