Electric 2000c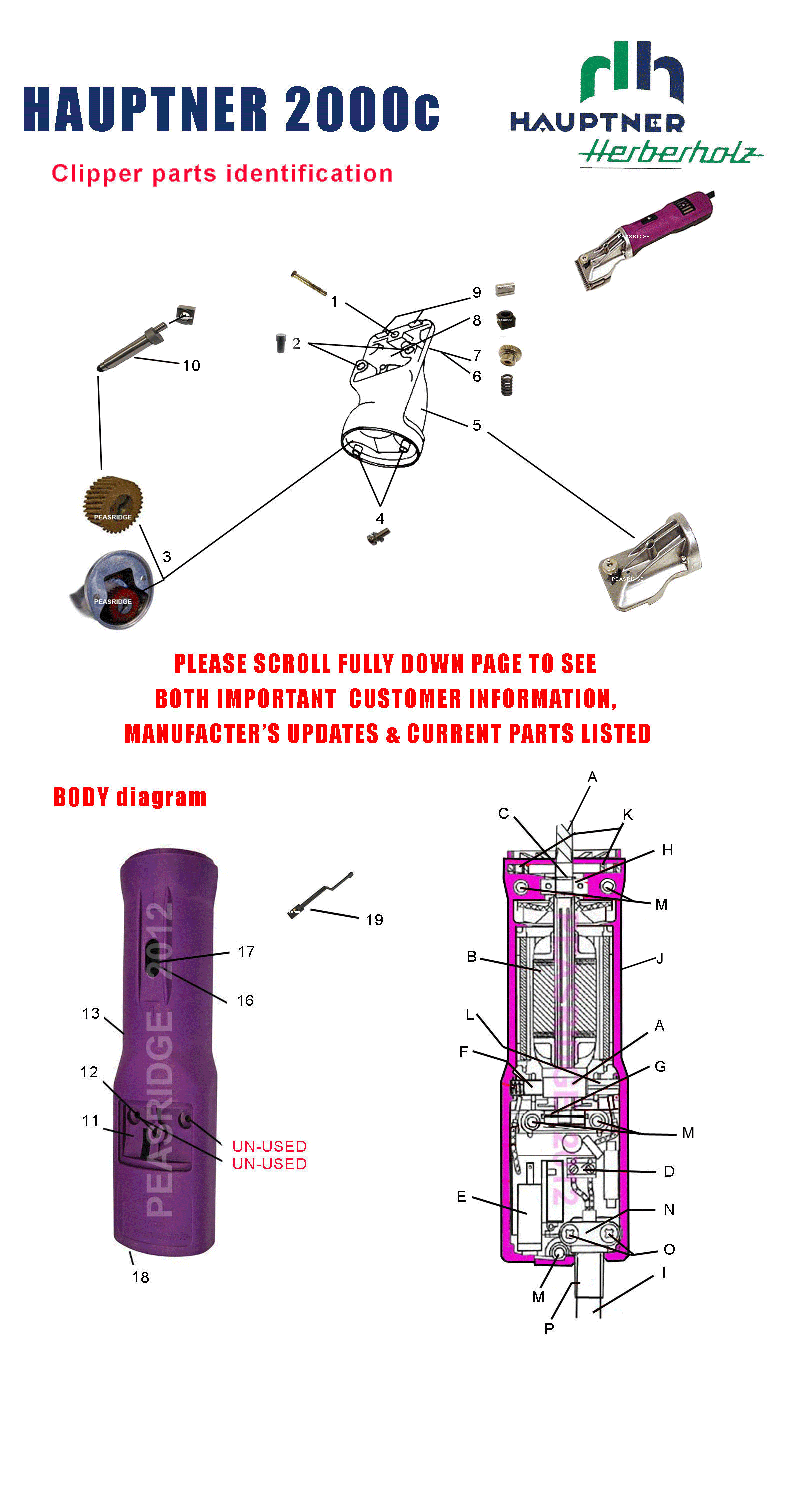 Customer information
IMPORTANT – CUSTOMERS INFORMATION
This page is under constant construction with new parts being added. Please also note any manufacturer's updates as listed
Always scroll FULLY down the page to see both updates and current parts listed
Some pages may only show a limited number of parts – you will need to CLICK "View All" (See the top of the page above the diagram or at the bottom of each page)
If you require further advice please contact us.
E-mail:
sales@showtime-supplies.co.uk
Telephone:
UK Mainland: 01759 368 588
Overseas: +44 1759 368 588
PLEASE NOTE
Telephone lines are open from (UK time: ) 1030 to 1230 hours and from 1430 until 1630 hours Monday to Friday. Our offices are shut on Saturday, Sunday and all Bank Holidays.
Product items such as ADAPTERS, BATTERIES & CHARGER UNITS are listed under CLIPPER ACCESSORIES
See STORE SELECTIONS on the LHS of your screen
ORDERING PARTS
Please have details relating to make and model of machine, as well as applicable part or diagram identification numbers to hand. Failure to do this may result in errors in the parts ordered/supplied.
TRADE – DISCOUNTS
Trade discounted prices are available on all parts to bona fide trade repair businesses. Please contact us for further information
SHIPPING
We make every effort to ship parts the same day for next day delivery on the UK Mainland
INTERNATIONAL SHIPPING
We ship worldwide daily.
MANUFACTURER'S UPDATES
<b
October 2009
PCB unit
Originally there where different PCB's supplied for various production batches
Clippers with 30/50w on the ID plate, production models marked as 180w and finally the last batch that carried the letter "C" at the start of the serial number. Since 1st October 2009 the PCB was standardised to fit all models and ages. The current PCB (part number: 89500.510 is supplied as a complete assembly, which includes the re-set switch, a black switch, a yellow condenser, a green NTC resistor (NTC-Widerstand) and on the underside a black rounded capacitor. The re-set switch is the only item that can be currently purchased separately; all other parts are only available as part of the complete PCB.
June 2010
Tension bolt
Hauptner engineers have changed the shape of the Hauptner tension bolt head which now replaces the tension bolt as as previously used on production models of the 2000 & 3000 models. The new style bolt instead of being round headed as previously supplied has been changed to an oblong shaped head. This enabling both the comb and cutter blades to be removed without fully havingun-screw the tension nut, remove both the spring and bolt, before removing the blades.
When inserting the new type tension bolt you should turn it from the "horizontal" position to a "vertical" position, which enables it when tightened, to grip the side plates of the comb blade . (This can be seen in the video clip on the Hauptner 2000 Plus clipper page – SEE CLIPPERS – Heavy duty – Hauptner 2000 Plus)
May 2015
Tension nuts
Until the Hauptner factory reduces the currently held stock of tension nuts, plastic grey tension nuts will be supplied to repace the current metal tension nut as normally supplied under part number: 86831.050
August 2016
Reset/Overload switch
This item has been replaced with a new Reset/Overload switch – part number: 89500.570
(Previously 89200.880)
Showing 1–16 of 32 results
Showing 1–16 of 32 results