Premier
BLADES for the PREMIER Mk I & Mk II Clippers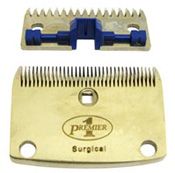 "CUSTOMER INFORMATION"
Premier Clippers and blades were originally made under licence by the German manufacturer HAUPTNER and included the following blades.
Premier Standard blade
Premier Fine blade
Premier Coarse blade
Premier Surgical blade
Production ceased at the Hauptner factory in approximately 2003/4 due to increasing costs resulting from the Euro v UD dollar exchange rate. Premier eventually moved both clipper and blade production to the USA and sought manufacturers in China, with blade plates being returned to the USA for lapping (sharpening) before then shipping to the UK and Europe for sale.
A period of time elapsed before it became clear to Premier that there existed a problem with the re-sharpening of these Chinese's made blades and maintaining a constant cutting edge. Product of both the blades and the clippers ceased in about 2009 due to a lack of guaranteed quality control from China.
Customers with both Premier Mk I and Mk II machines are advised to use Lister Blades.
These blades fit both Premier Mk I and Mk II models
SPARE PARTS
Genuine German made SPARE PARTS for both Premier Mk I and Mk II models are currently available on our web site – see CLIPPER SPARE PARTS – Select either PREMIER Mk I & Mk II Clippers
HOW TO TELL WHICH MODEL YOU HAVE?
Both Hauptner Mk I and Mk II models look identical.
Hauptner 3000 Mk I and Mk II models have a blue indetification label
4000 Mk I and Mk II models have a green indetification label
The Hauptner Mk I was manufacturered from 2003 until the Mk II version which entered production in 2009. There was some minor modifications made between the Mk I and Mk II heads (See Clipper Parts section)
We are advised that both Mk I and Mk II heads are inter-changeable.
The manufacturer's were of the opinion the 4000 models were unsuitable for the UK market – therefore very few were sold in the UK.
Productions of both blades and all models of the Clipper ceased in 2009 (allow 1/2 years for UK outlets to clear stocks)
We understand that Hauptner Mk I models were in production up to Serial number VF3086
and that Hauptner Mk II models commenced production with the Serial number VF3087
No products were found matching your selection.