Arena Plus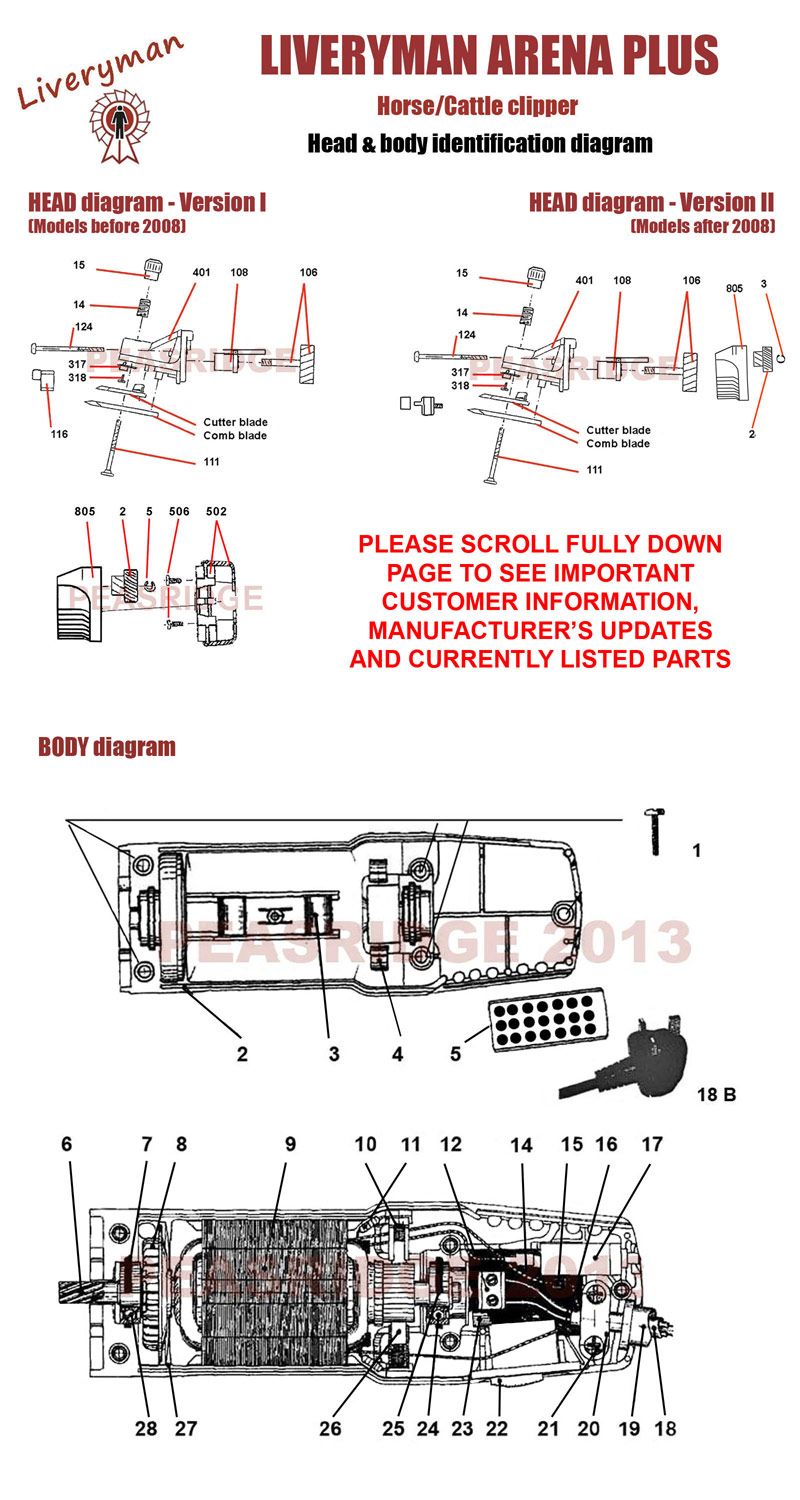 Customer information
IMPORTANT – CUSTOMERS INFORMATION
This page is under constant construction with new parts being added. Please also note any manufacturer's updates as listed
Always scroll FULLY down the page to see both updates and current parts listed
Some pages may only show a limited number of parts – you will need to CLICK "View All" (See the top of the page above the diagram or at the bottom of each page)
If you require further advice please contact us.
E-mail:
sales@showtime-supplies.co.uk
Telephone:
UK Mainland: 01759 368588
Overseas: 0044 1759 368588
Product items such as ADAPTERS, BATTERIES & CHARGER UNITS are listed under CLIPPER ACCESSORIES
See STORE SELECTIONS on the LHS of your screen
ORDERING PARTS
Please have details relating to make and model of machine, as well as applicable part or diagram identification numbers to hand. Failure to do this may result in errors in the parts ordered/supplied.
TRADE – DISCOUNTS
Trade discounted prices are available on all parts to bona fide trade repair businesses. Please contact us for further information
SHIPPING
We make every effort to ship parts the same day for next day delivery on the UK Mainland
INTERNATIONAL SHIPPING
We ship worldwide daily.
MANUFACTURER'S UPDATES
<b NONE
Distinguishing Arena models

CUSTOMER INFORMATION:
There are three versions of the Liveryman "Arena" horse/cattle clipper – the Arena C90, Arena Ci30 and the heavy duty machine – the Arena Plus
Over the years improved models with various changes have been instigated. These include body casing colour changes and wattage rate changes.
Early "Arena" models were rated at 90w (Black casing) and have been increased to 130w with a bluish green casing. (Some model may have a black casing)
Early "Arena Plus" models (Black casings) were rated at 130w, later to be upgraded to 200w also with black casings.
To simplify distinguishing the "Arena" from the "Arena Plus" – the "on/off switch" is a relatively good feature to use.
The Arena C90 has the "on/off switch" positioned on the upper casing between the head collar and the Liveryman logo and air filter. The Arena Plus has the "on/off switch" positioned at the side of the clipper towards the rear end. (See fig 1) One can also distinguish by checking the air filter and/or the carbon brush positions.
Another feature is the air filter. The Arena C90 has the air filter position on the upper body casing – rear end. The carbon brushes are located by the "carbon brush cover cap" located either side of the lower casing, (Approx the middle) In the case of the "Arena Plus" carbon brush location is "integral" there being no "carbon brush cover caps" exposed on the body casing.
ARENA GALAXY:
During the period 1990 – 2005 the Liveryman brand sold a clipper known as the "Arena Galaxy"
This comprised of the black Arena C90 horse/cattle clipper complete with an Andis Smart trimmer.
The Arena C90 diagram and parts are applicable to this machine.
Showing 1–16 of 26 results
Showing 1–16 of 26 results